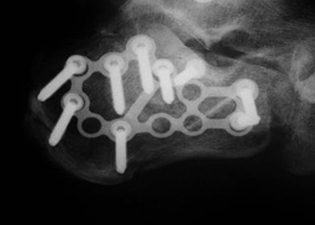 Overview
A heel spur is a buildup of calcium or a bone hook on the heel bone. This is typically the source of most heel pain. It usually takes an X-ray to see the heel spur protruding from the heel. Without proper heel spur treatment, a heel spur cause inflammation and lead to other ailments like plantar fasciitis and Achilles tendonitis. It is important to be examined by an orthopedic specialist.
Causes
Over-pronation (flat feet) is a common cause of heel spurs, but people with unusually high arches (pes cavus) can also develop heel spurs. Women have a significantly higher incidence of heel spurs due to the types of footwear often worn on a regular basis.
Symptoms
Pain and discomfort associated with heel spurs does not occur from the spur itself. The bone growth itself has no feeling. However, as you move, this growth digs into sensitive nerves and tissue along the heel of the foot, resulting in severe pain. Pain can also be generated when pushing off with the toes while walking. Swelling along the heel is also common.
Diagnosis
A heel spur is often seen on X-ray as a bony protrusion, which can vary in size. However, because a Heel Spur only indicates increased load on the plantar fascia, and not pain, an ultra sound may be required to assess other actual cause of the heel pain such and may include checking to see if the plantar fascia is inflamed or degenerated.
Non Surgical Treatment
Over-the-counter or prescription-strength anti-inflammatory medications can help temporarily, but can cause side effects with prolonged use - the most significant being gastrointestinal upset, ulceration and bleeding. Deep tissue massage, taping and other physical therapy modalities can also be helpful. Arch support is highly recommended, either with shoe inserts or custom orthotics made by podiatrists. If pain continues, a steroid injection at the site of pain may be recommended; however, many physicians do not like injecting around the heel. The side effects of steroids injected in this area can be serious and worsen symptoms. Complications can include fat necrosis (death of fatty tissue) of the heel and rupture of the plantar fascia.
Surgical Treatment
Surgery involves releasing a part of the plantar fascia from its insertion in the heel bone, as well as removing the spur. Many times during the procedure, pinched nerves (neuromas), adding to the pain, are found and removed. Often, an inflamed sac of fluid call an accessory or adventitious bursa is found under the heel spur, and it is removed as well. Postoperative recovery is usually a slipper cast and minimal weight bearing for a period of 3-4 weeks. On some occasions, a removable short-leg walking boot is used or a below knee cast applied.